Overview
---
Everyone has a reason to get healthier. Maybe it's coaching your child's sports team, hiking with your friends or reaching a personal goal. Whatever or whoever your reason, be ready for it by taking steps now to a healthier you!
UW Oshkosh supports our employees in choosing well, doing well, and living well!
At UW Oshkosh, we take a holistic approach to supporting our employee's well-being. We strive to provide options that support employees across the many dimensions of well-being: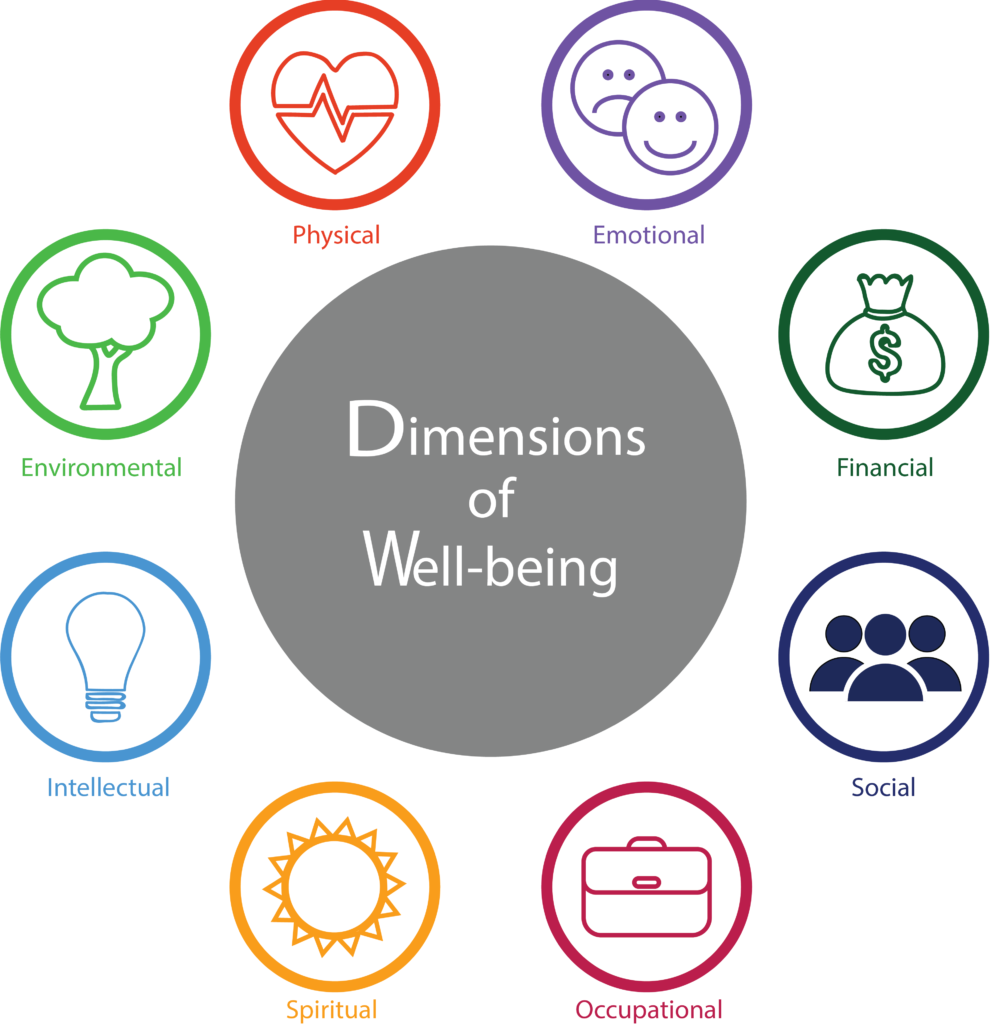 Emotional – Cultivating an emotional capacity that encompasses optimism, self-esteem, self-acceptance and the ability to form healthy relationships.
Environmental – Encouraging a way of life that maximizes harmony with the earth and minimizes harm to the environment.
Financial – Ensuring the ability to effectively manage your current and future economic life.
Intellectual – Exercising the mind through creative and stimulating mental activities to expand knowledge and improve skills.
Occupational – Using your gifts, skills, and talents in order to gain purpose, happiness, and enrichment as part of a balanced life.
Physical – Making a habit of healthy behaviors including adequate exercise, proper nutrition, and abstaining from harmful habits.
Social – Developing the ability to interact successfully in our local and global community and creating networks of support.
Spiritual – Possessing a set of guiding beliefs, principles, or values that help give direction to one's life.
Programs and Resources
---
Explore the information within these pages to help reach your goals and resources on a few of the well-being dimensions.
Employee Recognition and Awards
---
We value the time employees spend contributing towards our vision, mission, and students. UW Oshkosh, along with UW System, takes the hard work and talents of our employees seriously. Employee recognition and awards are a way to recognize the accomplishments of employees across the university.
Length of Service Recognition

Employee's length of service is recognized in 5 year increments and is based on the number of years they have worked at UWO. To thank employees, we host a group event and offer employees a range of gift options based on their length of service.

Awards

Click on your employment classification below to see what award opportunities may be available to you. Awards are offered from the UW System Board of Regents and at the local university level.
Regents University Staff Excellence Awards
The purpose of the Regents University Staff Excellence Awards is to recognize the dedicated work, vital services, initiative, and outstanding contributions of the UW System's university staff.
Two awards will be made to university staff members in recognition of their exceptional service to the university. One award will be made to a program staffed primarily by university staff in recognition of the important role played by university staff in supporting the UW System's mission, priorities, or programs.
It is anticipated that award recipients will be publicly recognized at the October meeting of the Board of Regents each year.
Additional University Staff Recognition
Regents Professional Academic Staff Awards
Additional Professional Academic Staff Recognition
Additional Professional Academic Staff recognition awards are available. View details via the Senate for Academic Staff website.
Regents Faculty and Instructional Academic Staff Awards
Additional Faculty and Instructional Academic Staff Recognition
Monday - Friday 7:45 a.m. - 4:30 p.m.
  Dempsey Hall 328
800 Algoma Blvd.
Oshkosh, WI 54901